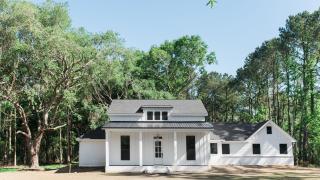 Southern Farmhouse Architectural Style
Our Southern Farmhouse Style's stand-out features are the board and batten siding and a shed style gable to stucco gables. The tall front door and single front windows have the clean lines of a modern home while the metal roof front porch keeps that farmhouse feel.
*This Architectural Style can accompany The Grand Townsend, The Townsend, The Roussell, The Grand Conover, The Conover, The Grand Hawke, The Hawke, The Worsham, The Fernandez, and The Crosby.
Start Your Journey