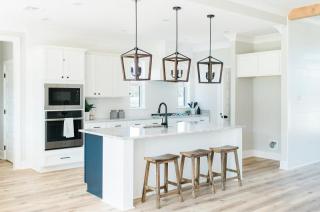 Cretin Townsend Homes currently services Southeast Louisiana, as well as parts of Mississippi, Alabama, and Florida. As our company grows we are always looking to expand our building territory. If you are unsure of whether or not we build in your area, just reach out to our design center and we can check your address!

Each and every family we build for is unique and so are our homes. We start with our proven floor plans and personalize based on the family's lifestyle and dreams. This process allows Cretin Townsend Homes to deliver the best value to you while building the home of your dreams. To find out the cost of your dream home, contact our sales center and speak with a new home specialist.

Every Cretin Townsend Home is stick built on your home site. Your personal builder inspects every stage of construction to ensure your beautiful new home is up to the Cretin Townsend standard.

Since Cretin Townsend Homes build on your home site, every location is different. For this reason, we include a site evaluation to establish budgets for you to prepare your home site. We have partnered with area site prep companies that we recommend for quality and value.

In most cases, you will need a current survey of your home site depending on the parish or municipality you are building in. Your New Home Specialist will be able to help you decide if a current survey is needed.

In order to provide you the best value we can, we have a library of plans that is constantly being evaluated and updated. These proven floor plans can be personalized to your lifestyle and needs. If your dream home is more complex, we do have a custom home option.

Cretin Townsend Homes has developed a streamlined process that allows for our quality homes to be built in a timely manner at the best value. With that said, each timeline is different based on what the family and their home requires. After speaking with a new home specialist, you will have a better understanding of your specific timeline based on your situation.