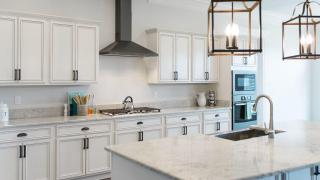 THE TRAN CUSTOM HOME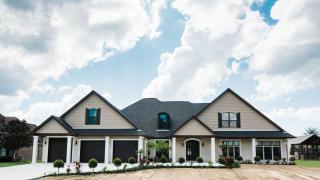 Living Area: 3,680 SQ.FT
Garage: 919 SQ.FT
Patio: 291 SQ.FT
Porch: 263 SQ.FT
Storage: 751 SQ.FT
Covered garage area: 158 SQ. FT
Total 5,386 SQ.FT
THE TRAN CUSTOM HOME
The Tran family came to Cretin Townsend Homes looking to build a fully custom, one of a kind home that was perfect for them. So that's exactly what we built them!

An 8' tall arched, beveled glass, double front door leads you into the foyer where 14' ceilings take your breath away! Throughout the home, you can find four spacious bedrooms, 5 luxurious bathrooms, spectacular vinyl plank flooring in the color Grove and beautiful crown molding throughout.
The large living area encompasses a stunning painted brick fireplace with cedar-stained mantle and is open to the gourmet kitchen. Stocked with gourmet gas appliances, Colonial White granite countertops, as well as white painted cabinets with Russet glazing, this kitchen hits all marks. The master bedroom is everyone's dream room, featuring a spa-like en-suite, equipped with a custom tile shower, Ariosa Freestanding bathtub, duel vanities, and two sprawling master closets.

To see more custom houses built by Cretin Townsend Homes, check out our Featured Homes tab where we showcase our unique floorplans and architectural styles that have been customized by past customers to fit their wants and needs.