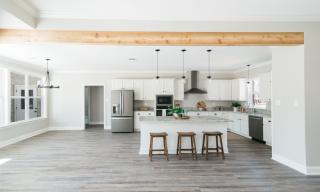 THE WINBURN CUSTOM HOME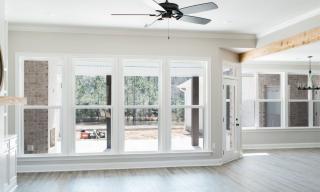 Living: 2,742 SQFT
Garage: 507 SQFT
Porch: 201 SQFT
Patio: 311 SQFT
Garage: 151 SQFT
Open Patio: *224 SQFT
Total: 3,912 SQFT
THE WINBURN CUSTOM HOME
THE WINBURN FAMILY HOME
We were so excited to see the Winburn family's dream home come to life! This customized
Fernandez
with the
Acadian Architectural Style
has 4 bedrooms, 3 bathrooms and endless amounts of space for entertaining.
Upon entry of the home, you are immediately greeted by a bright and airy atmosphere thanks to the open floor plan and windows lined across the back wall, letting ample amounts of natural light in. In the kitchen, painted and glazed cabinets along with slate gourmet appliances are just a couple of many upscale features that were included in this home.
Gorgeous ship lap accents are sprinkled throughout the home, such as above the fireplace, on the kitchen island, and on the back of the drop zone. Enjoy the winter nights by lighting the 36" wood burning fireplace inside, or enjoy the back patio while using the 42" fireplace outside! This home was certainly a showstopper and we couldn't be more in love with the result!
To see more completed homes, check out our
featured homes
tab. For more information,
contact us
today!